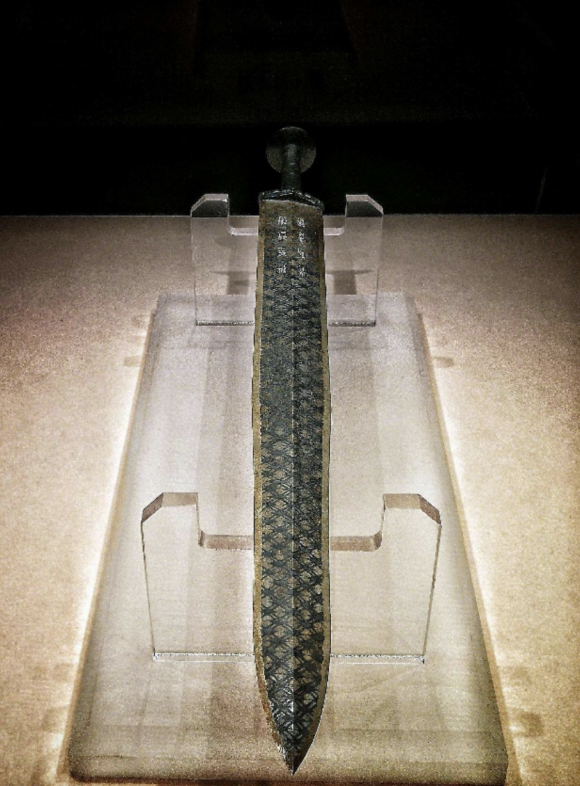 Gou Jian's sowrd, who was the king of Yue in the Spring and Autumn Period (Hubei Provincial Museum Collection)
The length of the sword is 55.7 cm, the hilt is 8.4 cm long, the width is 4.6 cm, the head is turned outward into a round hoop shape, 11 concentric circles are cast inside at a distance of only 0.2 mm, and the sword is covered in a recurring dark lattice pattern in the form of a black diamond. The back of the lattice is covered in turquoise, while the front is covered in blue lucite. The sword has two razor-sharp blades, a long, slender body with a central spine, and a curved, concave front edge. Concentric circle jewelry with two convex hoops on the stem. The sword is significant because, among the many swords used by King Goujian during the Spring and Autumn eras, it was the "self-use" sword. After examining the metal under a microscope with a 3000x magnification, Tan De Rui from the Shanghai Municipal Museum discovered chemical treatment remnants at a thickness of one hundredth of a millimeter. Proton fluorescence analysis of the sword's surface decoration and composition revealed that it was primarily made of tin-bronze, with minor amounts of aluminum and nickel, and that sulfur was used to create the gray-black diamond pattern and the black hilt and grill. The sword of King Goujian of the Spring and Autumn Period is a priceless bronze weapon that is extremely important for understanding ancient Chinese bronze casting methods and texts as well as studying the history of the Yue Kingdom.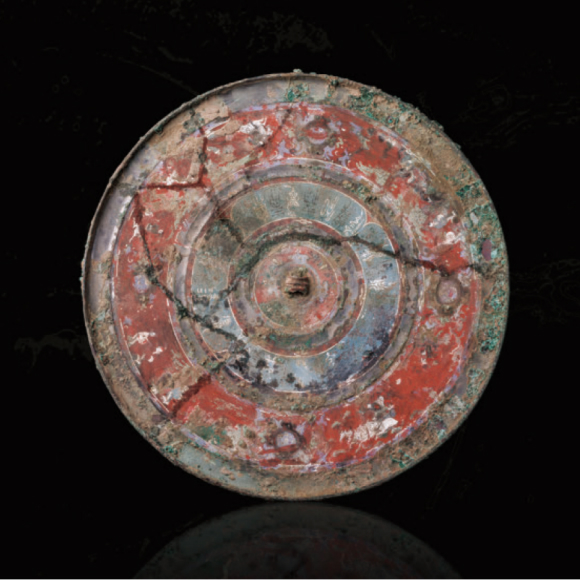 Painted Mirror with Bird-Worm Seal Script (Tsinghua University Art Museum Collection)
The diameter is 28.2 cm, and there are four groups of objects inside: people on foot, people sitting on the ground, people riding horses, four horses towing a cart, and a big tree. This mirror is among the painted ones and features the only seal script inscription of birds and insects that has ever been seen. The image shows four groups of eight black and white characters each, for a total of 32 characters, in the inscriptions. The poetic form of the Chu and Song dynasties is represented by the inscription system, which consists of seven lines each with the word 猗 (兮) added at the end.
The inscription reads: 制察美恶无私亲猗(兮),□流阴光□□□□,□之□□阑其真猗(兮),□彼□诤□取□猗(兮)。