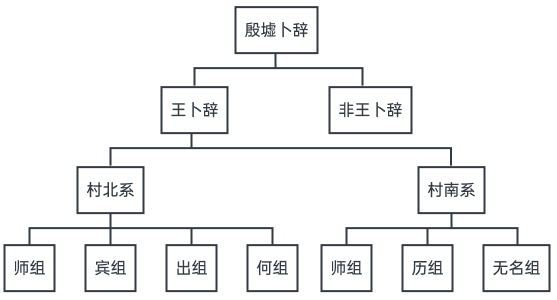 The WangPu script and the non-Wangpu writing are separated in the Yinxu oracle bones.
The Wangpu script is separated into two systems, one in the village's south and the other in its north. In other words, in the Yin Market, there were two divination agencies in the north and south of Xiaotun Village. This is due to the formation of two systems, one in the north and one in the south. (The mid-village is located to the south of the village.)
The Shi, Bin, Chu, and He groups are part of the village's north system.
he Shi group, the Li group, and the nameless group are all part of the village south system.
The North and South eventually combined to form the Yellow Group.However, the specifics of the merger are unknown: whether the two institutions were still separate entities at the time of the merger or whether they were combined into one.
Scholars disagree on the name of the group.For example, Mr. Huang Tianshu's Dianbin was renamed Bin I Group- B by Mr. Peng Yushang. Dianbin, the most typical Bin group with the best-looking script, is also the oracle bone script at Wuding's apex. Dianbin's oracle bone calligraphy is frequently replicated. Bin II relates to Dianbin, while Bin III refers to Binchu of the intergroup, according to Mr. Huang Dekuan's textbook "Paleography." The Bin II category's 24,000 or more pieces also indicate its usual rank in terms of quantity. The naming of the books varies, but the core criteria remain the same. However, there is a minor difference in naming, and the impact is minimal.
The non-Wangpu writing is unique; it is the oracle bone script used by other noblemen for divination,and it is normally kept within the family, however there are a few who are affiliated with the Wangpu script. For the time being, the non-King divination texts discovered are all early ones.
Because the Wuding period was the most wealthy at Yinxu, there are many Bin group divination texts from this time period. Wu Ding's wife, Hao, was also his wife. Bronzes developed as well, with the Bin divination tablets being the most ambitious of the oracle bone manuscripts. They're also the most educational. It's also the most visually appealing script. The standard Bin group script is quite lovely.